The Spine Research Institute
EduTechnologic is working with The Spine Research Institute at The Ohio State University to create rich, interactive resources as part of an upcoming mobile application series educating the public on the back, neck and spine.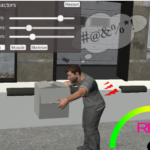 The Virtual Chemistry Lab is a project using the Chem Libre Texts, an open source project to make Chemistry available to everyone.  EduTechnologic has continued to work with Delmar Larson at UC Davis and the consortium to extend the capabilities by creating interactive content using the available resources.  The following video is an early sample of the project currently under construction.
EduTechnologic as an early adopter and researcher of interactive Virtual Assistants.  We continue to mix artificial intelligence, machine learning, cognitive services with rich 3D animations.  We understand the complexities of Human to Computer interaction and the robustness and limitation and the application of integration with augmented reality, virtual reality and mobile technologies as well as the cognitive implication to learning and real world uses.