EduTechnologic Named Premier Member of RealWear HMT-1 Pioneer Program
Developing applications that incorporate on the job training and real-time content delivery
COLUMBUS, OH — March X, 2017
HIGHLIGHTS:
Columbus, OH-based EduTechnologic joins RealWear HMT-1 Pioneer Program as a premier member and solution partner.
RealWear HMT-1™is a new kind of industrial wearable designed for skilled technicians and engineers in field service, equipment inspection, maintenance and complex manufacturing assembly.
EduTechnologic is developing a fully customizable application for heavy industry and manufacturing companies that doubles as a training and support tool for mobile and wearable technology.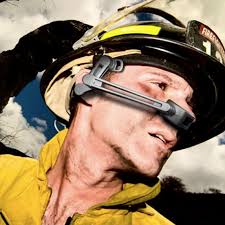 EduTechnologic today announced it is a premier member of the RealWear HMT-1 Pioneer Program. Launched in 2016, this program provides all the tools necessary to develop applications for the world's first industrial head-mounted tablet for the connected industrial worker. EduTechnologic builds smart, user-centric applications for wearable technology products that are intuitive, enrich the user's experience, reduce errors, increase productivity and promote learning.
As a member of the Pioneer Program, EduTechnologic will have access to the first HMT-1 production models, as well as hardware and software development kits, and the Pioneer Program developers' forum and conference. They are developing a mobile and wearable application that doubles as an on-the-job-training (OJT) and real-time content delivery system. The technology is highly adaptive and interactive and integrates mobile technology, content delivery, cognitive services, augmented reality, artificial intelligence, and machine learning to provide relevant content in real-time for the user.
"I am deeply impressed with the design of the HTM-1. It's the first fully operational device that's ready for any work environment," said Brad Henry, CEO, EduTechnologic. "Being able to apply our expertise in wearable technology to design applications for workers using the HMT-1 gives us a leg up on other developers. We expect to have our first customizable application for this device ready by May. We're thrilled to play an integral part in shaping the future of wearable industrial solutions."
About EduTechnologic, LLC
EduTechnologic, LLC is a technology consulting company specializing in augmented reality, mobile and wearable solutions for industry. It integrates advanced technologies for training, on-the job support and usability.  Learn more at http://www.edutechnologic.net/
Contact:
Brad Henry
EduTechnologic, LLC
(614) 653-6276